You can listen to this episode of our Top 5 stories of the week in all the usual podcasting apps. Here are the links to a few spots for you to listen (and subscribe😉):
---
1 . Garmin Paralyzed by Russian Cyberhacker
Garmin, an $18 billion GPS navigation company, was attacked by ransomware on July 23rd. For five days, its systems and apps, like Garmin Connect, were completely disabled.
The outage made fitness enthusiasts around the world curse at their phones and watches, and dust off old USB cables to upload their activities on Strava. The outage wreaked havoc far beyond the fitness community, as Garmin also produces GPS technology in aviation and marine vehicles.
Russian cyberhacker Maksim Yakubets is believed to be behind the cyberattack. The 33-year-old runs Evil Corp, a subtly named Russian cybercriminal group that has operated since 2009. Yakubets is a flamboyant character and along with his flashy cars, one of which is a customized Lamborghini with a number plate that reads THIEF in Russian, he is known to have splashed out on a pet tiger and lion cubs. The FBI already had a $5 million bounty on his head.
Russian cyberhacker Maksim Yakubets (above) already had a $5 million bounty on his head from the FBI. He and his associates are believed to have already stolen $100 million from companies across the world. Photo: dailymail.co/uk
Yakubets has demanded $10 million to return Garmin's data and restore its devices. And while Garmin could afford that price, they might have to think twice before paying. In December 2019, the U.S. Treasury Department sanctioned Evil Corp for causing more than $100 million in financial damages in the U.S. banking system. As a result, if Garmin paid them the ransom fee, they could find themselves breaking U.S. sanctions.
As of July 28, however, the company was back running. And Strava users, of course, were back posting.
---
2. Mixed Cross-Country Relay Set for 2024 Paris Olympics
Photo: ESPN.com
World Athletics and the International Olympic Committee are working to include cross-country running to the Olympic schedule for the first time in more than 100 years.
The proposal outlined by World Athletics would have two men and two women per nation compete in a mixed relay, with each member running two legs of a 2.5-kilometre course. There would be no individual race.
The event would take place during the summer Olympics, overlapping with the track and field events.
World Athletics said it must still meet with the Paris 2024 organizing committee to work out details of the proposal.
---
3. Death Sentence Overturned for Boston Marathon Bomber
On July 31, a federal appeals court threw out Boston Marathon bomber, Dzhokhar Tsarnaev's, death sentence. In 2013, Tsarnaev and his brother Tamerlan, set off a bomb at the finish line of the Boston Marathon killing three people and wounding 260 others.
Tsarnaev's death sentence has been overturned due to bias among the jury members. After the trial, which took place in Boston, it was proven that two jury members harboured strong opinions about the case, posting about it on social media. According to ESPN, one juror retweeted a post calling Tsarnaev a "piece of garbage."
Tsarnaev's fate is uncertain as he remains locked up in a supermax prison in Florence, Colorado.
---
4. On Running Announces New Training Group
On, a Swiss running brand, has launched a professional running team in Boulder, CO. They will be known as On Athletics Club (OAC).
The team's roster is expected to carry international flavour, and will be coached by former American 5,000m record holder Dathan Ritzenhein. For now, OAC has announced just one of its signings: Joe Klecker, the 2019 NCAA XC silver medalist and recent Colorado University graduate. The full roster of at least eight athletes will be announced on August 10.
On has historically sponsored triathletes, like five-time world triathlon champion Javier Gomez. But in recent years, they have shifted part of their focus on American distance running. They already sponsor two running groups: Mammoth Track Club in California and ZAP Endurance in North Carolina, as well as 2020 U.S. marathon trials runner-up Jake Riley of Team Boulder.
On's recent focus on American distance running might have something to do with the fact that U.S. Olympian and middle distance runner Andrew Wheating works at On as a marketing specialist. The Swiss brand also has Steve DeKoker, former head of sports marketing at Brooks, on their roster.
---
5- First of the In-Person Backyard Ultras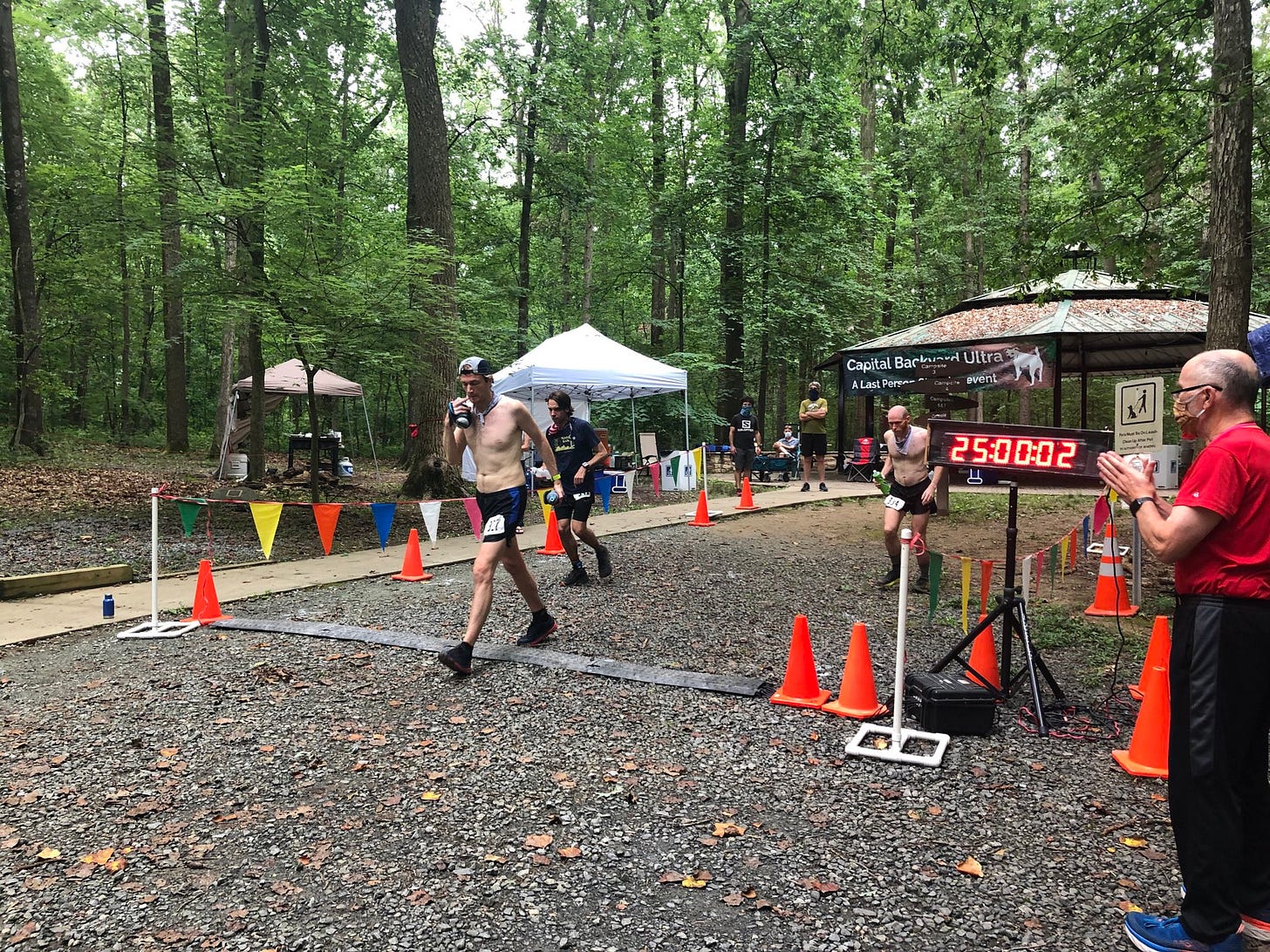 On August 1, the Capital Backyard Ultra took place in Maryland. While virtual backyard ultras have been ongoing throughout the pandemic, this was the first to occur in-person.
Twenty-two racers toed the line, each having an hour to complete a 6.7 km (4.1 mile) loop. This continued until there was only one racer left. American ultrarunner Aaron Ellison came out on top, running 181 km in 27 hours.
The race was a success, raising the question of whether we'll start to see more in-person races popping up. Perhaps an elite-only marathon? Or, more specifically, an Eliud Kipchoge vs. Kenenisa Bekele face-off in London this fall?