It's 11:30 p.m. on September 28 in Doha, Qatar. The domed sky above the city is a hazy black and the temperature on the roads hovers around 30 degrees Celsius. A 2km, out-and-back loop, lined with grey cement barriers and print ads for Qatar Airways and Exxon Mobil, has been constructed on Doha Corniche, a waterfront promenade stretched along Doha Bay. Floodlights illuminate the course, casting grainy shadows on the smooth pavement, and in the background loom the jagged peaks of the city centre's colossal skyscrapers.
Halfway through the loop, Evan Dunfee waits at the start line of the World Track and Field Championship's 50km race walk. Surrounding him are 45 male competitors and 24 female (the races being contested on the same course at the same time). Besides his black team Canada race kit, Dunfee dons a backwards white ball cap and a small, red towel tied around his neck, designed to wipe sweat. A handful of other athletes wear similar towels, many looking damp in the unforgiving heat. "I'm like 90 per cent sure I won't die," Dunfee says to a teammate before the race.
Moments from the start, the announcer's voice booms over the sound system, introducing notable athletes in the field—Eleonora Giorgi from Italy, Liang Rui from China, Yusuke Suzuki from Japan, Yohann Diniz from France. Each athlete steps forward and waves to the camera. Dunfee is not among them. Despite a fourth place finish at the Rio Olympics in 2016, his presence is diminished by the star power of world record holders and Olympic champions.
Officials call the field to the start line. Dunfee shuffles forward, hunched slightly, left hand steady over the start button on his watch. Silence descends; a unanimous inhale from fans and competitors alike as they listen for the crack of the gun.
Much like Forrest Gump's prescient ability to emerge at pinnacle moments in history, Dunfee has been making appearances on the world race walking stage since he was a teenager. Picking up the sport at age 10 after emulating an older brother, Dunfee's first major splash on the international scene was a 10th place finish at 2007's World Youth Championships in Ostrava, Czech Republic. From there, he competed in Delhi, Moscow, Beijing, and, more recently, Toronto, clinching a gold at last year's NACAC Championships (North American, Central American and Caribbean). He's managed to rack up an impressive list of accolades.
To put his feats into perspective, Dunfee can walk 50km in three hours, 41 minutes and 38 seconds (a Canadian record he set at the Olympics in Rio). That's an average of four minutes and 26 seconds per kilometre. That means he's going through each 5km split in 22 minutes and 10 seconds, faster than the average time recorded in most road races.
You're not likely to see his face on any Wheaties Boxes, though. Race walking, one of track and field's lesser known events, tends to get swept under the rug in North America. Dunfee's Doha race wasn't even broadcast in Canada, forcing friends and family to listen over the World Athletics' app.
At a collegiate level, the sport is neither practiced in U Sports nor the NCAA. The National Association of Intercollegiate Athletics (NAIA), a grouping of small colleges, almost exclusively American with the exception of the University of British Columbia (UBC) and Simon Fraser University (SFU), is the only university athletics association that hosts race walking. During his time as a kinesiology student at UBC, Dunfee won the 2011 NAIA race walking title over 5,000m in a record-breaking time of twenty minutes and two seconds.
Race walking's fledgling reputation doesn't come as a shock. It's a strange event. Grown men and women who've finessed power walking into an art form; rubbery legs whipping beneath them like the strummed cords of a guitar, their hips swivelling violently in a partnerless salsa. "I get people's reservations about it," Dunfee says. "It looks ridiculous."
But race walking has a long and colourful history, in some respects more interesting than your classic footrace. According to Matthew Algeo's book Pedestrianism, the sport has its roots in the 1500s when English noblemen would arrange races between their footmen (the poor saps who had to trot next to the nobleman's carriage on long trips).
The sport reached a peak in late 1800s America, selling out stadiums as crowds watched racers compete in long distance circuits, walking as much as 500 miles in six days. Cots often littered the middle of the stadium where walkers could catch quick respites of sleep. The popularity of the sport, however, seemed to stem less from an appreciation for the art of long-distance walking and more from the exchange of money, spectators laying down bets on the last man standing.
Race walking made its Olympic debut in 1904 as part of the "all-rounder" (the predecessor of today's decathlon). In 1908, the London Olympics introduced race walking as a stand-alone event with men racing 10 miles. It wasn't until 1992, however, in Barcelona, that women were allowed to compete.
This year, in Doha, men and women competed in the 20km and 50km race walk, a very different event than its 17th century predecessor. Today, the sport is raced around short loops, typically one to two kilometres, lined with officials holding yellow and red paddles. The paddles are used to judge an athlete's technique, yellow acting as a warning and red a strike. Three red cards and an athlete is ushered into a pit lane, similar to the penalty box in hockey. You have to wait in the pit lane one minute for every 10km you're racing. "So, in the 50km, if you get a third red card, it's a five-minute pit lane," Dunfee says. A fourth red card means you're disqualified from the race.
When watching, the officials ensure athletes keep one foot in contact with the ground at all times, "as judged by the human eye," Dunfee adds. "That's the big problem we run into with the legitimacy of our event," he says. "If you leave the ground for less than four hundredths of a second, it's pretty hard for the human eye to pick that up in real time, but when you watch us in slow motion replay, we all have both feet off the ground at some point."
Before the gun's crack has faded down the Doha Corniche promenade, Yousuke Suzuki of Japan has gapped the field. Dressed in a ball cap and sun glasses, he charges ahead, looking every bit like Benny Hill trying to escape an angry mob in a fast-forwarded chase scene. A white, ethereal-looking towel that resembles a roll of toilet paper flutters around his neck.
Suzuki holds the world record for the 20km race walk (1:16:36 set in 2015 in Nomi, Japan). But rather than the gruff, athletic attitude of a world-beater, he seems to carry himself with the delicate manner of a museum curator.
Either way, the rest of the field is left in Suzuki's dust, Dunfee included. But this—for Dunfee, at least—is a strategic move. The women's marathon took place the night before in nearly identical conditions. Out of the 70-athlete field, 28 women dropped out. By the end, it was less a race and more an experiment in heat exhaustion.
But rather than instilling any deep-seated anxiety in Dunfee, the race inspired him. "We watched what Lyndsay Tessier (Canadian marathoner who finished ninth in Doha) did, and I went, 'Holy shit! Alright. This is an opportunity where if you race smart, if you play it really smart, you could have enormous success."
A self-proclaimed stats nerd, Dunfee and his team poured over the marathon's results, comparing the women's times in Doha to their personal bests. This gave them the average percentage of how far off the women were from running full throttle, convincing Dunfee to take the race out at a pedestrian five minutes per kilometre, his training pace.
"If I hadn't seen the women's marathon results and done that math and looked at those stats and convinced myself that five minutes was a fine pace to be at early in the race," Dunfee says, "I would have just been antsy and frustrated and scared that we were going too slow."
Dunfee stuck to his plan and by 40km he is closing in on the top four, blowing past gaunt, miserable-looking athletes whose singlets are plastered so tightly to their chests from sweat that it looks like they've emerged from the nearby bay. Then he hits 42km, a seemingly auspicious number considering its ties to the women's marathon, but, sadly, auspicious numbers have no place in track and field.
"I made a crucial mistake at 42km," Dunfee says. "I picked it up for about 100m at 42km and I was just kind of like, 'Oh, that doesn't feel great. Let's back it off and wait another lap.'" The hesitation would cost him a silver medal.
Up ahead, Suzuki's blistering start is finally taking its toll, forcing him into a momentary sidewalk stroll, the kind you or I might make to the grocery store—or what Dunfee calls a "pedestrian walk." But despite obvious fatigue, Suzuki holds his lead, crossing the finish line first in a time of 4:04:20, followed by Joao Vieira of Portugal in second and Dunfee in third.
In his last five kilometres, Dunfee dropped his pace into the 4:30/km range, passing China's Wenbin Niu for third, making up three minutes and 20 seconds on Suzuki, and falling only three seconds back of Vieira. "It was an amazing race," he says. "I was so happy with the medal. It was so far beyond what I thought I could achieve." But as the elation faded and the adrenaline settled, Dunfee's gears started whirring again. "The immediate thought was, 'Okay, what went wrong? What could we have done better?'"
These questions surfaced again in the ensuing months. Not necessarily aimed at Doha, but other life-altering events. After his third place World Championship finish, a peak in Dunfee's career, World Athletics, track and field's governing body, announced that they would be discontinuing the 50km race walk after the 2021 World Championships in Eugene, Ore., opting for shorter races. And, if that sucker punch wasn't enough, out of the blue, Dunfee was dropped by New Balance as his sponsor.
Race walking, hand-in-hand with track and field, has boarded a wayward ship. Not necessarily doomed like the Titanic but more of a rowboat headed into the fog. Faced with the issue of online engagement in an era of short attention spans, governing entities like World Athletics and brands like New Balance are trying to figure out how to market track and field to the largest possible fan base.
Just last month, World Athletics announced that they would be cutting eight events from its Diamond League circuit in order to make them more digestible and entertaining. For a sport like race walking, that's never had the privilege of being a marquee event in the Diamond League and already has a limited fan base, cuts like these make its future in track and field look even murkier. If fans aren't willing to watch a 200m race, who's going to tune in for the race walk?
Dunfee is careful to admit this—still being a supporter of the company and all—but he does feel that part of the reason New Balance dropped him is because of race walking's lack of marketability. "I certainly think that if I had finished third in the marathon and if nothing else was different. If I still had 3,500 followers on Instagram and 4,400 on Twitter or whatever, but that medal was in the marathon, I have no doubt that I would be getting at least a few thousand dollars a year," he says. It should be noted that Dunfee was on a gear-only sponsorship and never received a penny.
Jessica Copeland, a marketing manager at New Balance Canada, confirmed that race walking is no longer aligned with their marketing strategy. Instead, the company is shifting its focus to its global track athletes, like 400m hurdler Sydney McLauglin, rather than community-based athletes, like Dunfee.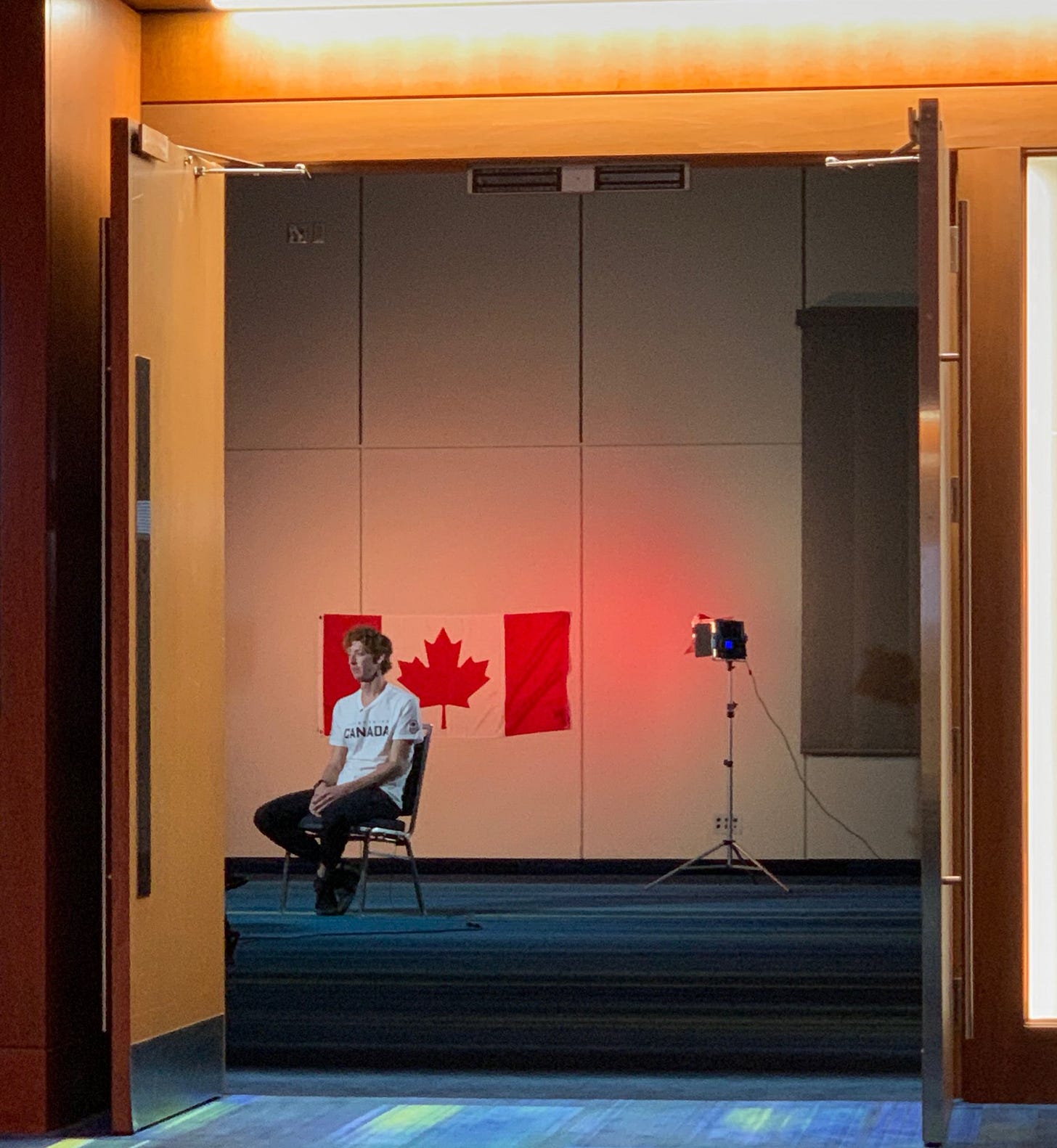 The split hurt, Dunfee admits that. But what hurts more is watching brands and governing bodies turn their backs on race walking due to low viewership. Especially when the key, he says, to boosting those viewership numbers isn't cutting events or making races shorter, it's providing the audience with information.
"The thing that I can't believe that we don't do yet is biometrics," he says. "I'm wearing a heart rate monitor. Why can't my heart rate be streamed? We could have this technology being fed back into the system and shown in real time. Then, when you're watching a marathon, seeing a pack of 10 guys who all look fresh, you can say, 'Okay, we know that so-and-so's threshold heart rate from watching him in other races is 175. Right now, he's at 177. He looks fresh but we know he's working really hard. He's probably going to fall off the pace really soon."
The idea has merit. A lot of merit, in fact. One of the reasons distance running is unrelatable to external audiences is that they have no concept of how fast the athletes are running or how hard they're working. Events like the 10,000m or race walking need to be explained to audiences, to be made relatable, rather than scrapping them in favour of the carnal drama found in the 100m. Yet, so far, Dunfee's pleas that pleasure can be found in understanding an event have fallen on deaf ears. Instead, the powers that be continue to pilot the ship further into the fog.