First, you can listen to our in-depth race preview podcast right here 👆 by pressing ▶️ or in all the usual podcasting apps. Here are the links to a few spots for you to listen and subscribe 😉 :
---
In our preview, Alex Cyr and Michael Doyle break down what's surely to be the most unusual and important marathon of 2020.
We discuss the impact of Bekele pulling out of the race, and whether or not that will affect how Eliud Kipchoge will perform. We analyze an equally intriguing women's race, featuring world-record holder Brigid Kosgei, and evaluate if she'll be able to lower her own astonishing mark, or if an upset is in the making.
Here's a quick cheat sheet for race day:
Women's Race
Frontrunner: Brigid Kosgei (2:14:04, world record holder)
What to expect: World record pace (2:14), and a group of contenders attempting to hang on in the first half
Contenders: Ruth Chepnegetich (2:17:08, 2019 world champ), Vivian Cheruiyot (2:18:31), Valary Jemeli (2:19:10)
What to watch behind the lead group: The clock at around 2:29:30. A group of British and other international runners will be desperate to crack that time, as whomever runs faster than that qualifies for the 2021 Olympics.
Men's Race
Frontrunner: with Bekele a DNS, it's obviously Eliud Kipchoge (2:01:39)
What to expect: Kipper going out at world record pace for faster, with a big group of young contenders hanging on behind him. If weather permits, maybe we'll see sub-two pace?
Contenders: Mosinet Geremew (2:02:55), Mule Wasihun (2:03:16), Sisay Lemma (2:03:36), Tamirat Tola (2:04:06), Marius Kipserem (2:04:11), Shura Kitata (2:04:49)
What to watch behind the lead group: As with the women's race, there is a time to watch out for: 2:11:30. There may also be a group of runners who attempt to push even faster than that, including American Jared Ward and Canadian record holder Cam Levins, who has run sub-2:10.
---
In our preview pod, we also evaluate the rest of this remarkable field in some detail.
Finally, we look at the unique aspects of this event, including the two-kilometre looped course, how the "biosphere" operated this week around St. James Park, including new social distancing technology called "Bump" warn by the athletes in the lead up to the race that sends an alert if they are coming too close to another person. And, of course…
The Course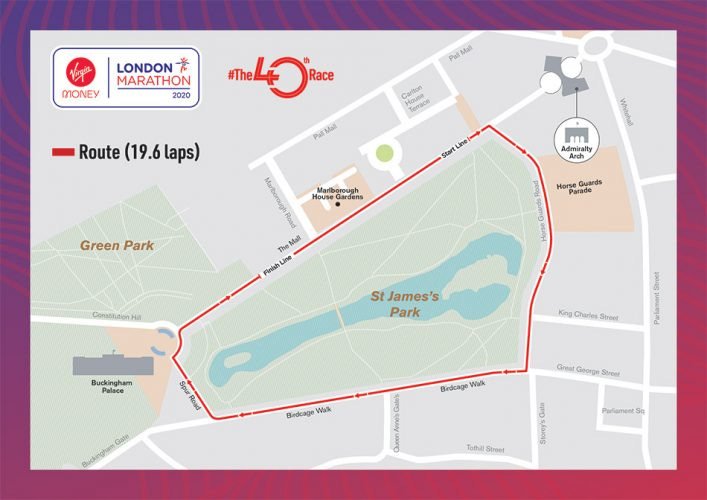 Athletes will run 19.6 laps of the two-kilometre looped course, before finishing along the straight stretch at The Mall. It's worth noting that the wind will be blowing from the southwest, which will be favourable given that the course will be run clockwise and the longest straightaway is along roughly the same axis.
The Race Day Forecast
The one major question mark for Sunday morning will be the weather. Although the projected temperature should float around 9-10 C, there is a chance of rain, and potentially windy conditions. The wet temperatures overnight and into the morning will make it feel closer to 3-4 C for the women's start, and it appears the wind will be increasingly gradually throughout the morning. World record paces could be tough to sustain in these conditions.
---
How to watch London
Broadcast begins: 2 a.m. ET
Women's race: 2:15 a.m. ET
Men's race: 5:15 a.m. ET
There are two ways to stream the marathon in North America:
Watch on the BBC using a VPN pointed to the UK.
Listen to our live podcast during the race on Facebook.
We're go to try a live pod via Zoom on our Facebook page for the men's race to provide some insight, just in case you're unable to watch the stream. We'll send out a quick reminder email with the link to both our FB page and the Zoom call itself, if you want to follow along that way.
We'll also push out a reaction/recap podcast right after the races wrap you, so keep an eye out for that as well.
Enjoy the show!