When the Canadian Olympic Committee announced earlier this month that our Olympians would have "increased opportunity to engage personal sponsors during the 2020 games period," three prospective T.V. commercials came to mind. There was Dayna Pidhoresky chasing a male Nike athlete around a nondescript city (Melissa Bishop style), Trevor Hofbauer shaking hands with a car salesman and riding away in a Ford Focus with additional leg room, and Reid Coolsaet sitting at a kitchen table with his family enjoying a bowl of Coolsaet-O's.
Bad news, we will never get treated to such delightful clips (or to a delicious bowl of Coolsaet-O's.) Why? Our Canadian athletes now have the liberty to appear in such ads during the Tokyo Games, but they have been banned from promoting most of their personal sponsors on the Olympic stage for so long that few of them even have personal partnerships left to endorse. That's right: Pidhoresky, Hofbauer and Coolsaet, three of the best marathoners Canada has ever produced, along with many of our other Olympians, enter 2020 with little to no support from sponsors.
How did we get here?
The Olympic movement contains a controversial by-law in its constitution: Rule 40.
The rule prioritizes the exposure of Olympic sponsors during the Games. It was triggered by Nike's popular "Golden Shoe" ambush campaign around the 1996 Olympics, which involved the eventual 200m and 400m Olympic champion Michael Johnson of the United States. The heavy advertising around the sprinter and his gold shoes with a red swoosh diverted attention from Reebok, the official Olympic shoe sponsor at the time. The IOC reacted by limiting promotional campaigns of non-Olympic brands during and around the Games.
The result: only brands that sponsored the Olympics (like Coca-Cola, Visa, and Adidas) could be displayed at the Olympics.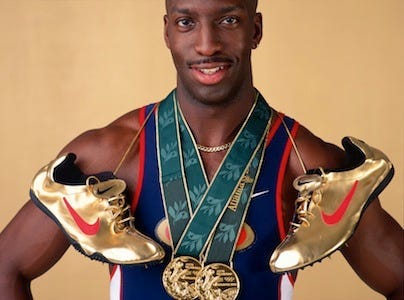 The consequence to rule 40
In the last two decades, Olympic athletes did not have the right to promote most of their personal sponsors in print and visual campaigns, mention them in the media, or wear their equipment during the Olympic period. Sneak in an advertisement for a non-Olympic sponsor to make a few extra bucks, and you might find yourself in court, facing the IOC's not-at-all-amateur team of lawyers.
Such restrictions in visibility and endorsement potential discouraged non-Olympic partnering brands from sponsoring athletes, because they would get little return on investment on the world's biggest stage. Meanwhile, the best athletes on the planet could only endorse Olympic sponsors during the games, gifting free visibility to companies who paid them nothing for their exploits.
The situation reminds one of the NCAA, where athletes of high calibre draw enormous crowds and substantial revenue to their governing bodies and schools, yet receive no financial reward. At best, this model conserved the Olympic movement's amateurism roots. At worst, it was amoral subjugation.
Over the last decade, the rise of social media has led Olympians to challenge the nature of Rule 40. Hashtags trended on Twitter, U.S. athletes held protests at their Olympic trials, and a German athlete group contested the by-law in court. Most famously, in an attempt to show how track and field athletes can benefit from brand exposure, American 800m runner Nick Symmonds auctioned off a patch of his left arm on Ebay in 2012. It was bought for $11,000 by Hanson Dodge Creative, a marketing agency, and Symmonds promptly got the company's logo temporarily tattooed on his deltoid.
Rule 40's New Look
Years of athlete pushback may have contributed to the IOC's relaxing of the rule in the summer of 2019, and the Canadian Olympic Committee's adoption of the new guidelines in January 2020. The latest iteration of the rule allows Canadian athletes the liberty to share promotional social posts about their personal sponsors and appear in marketing campaigns closer to the Games.
In full, the latest amendments are the following (as per the COC website)
Increased opportunity for athletes to engage personal sponsors during the Games period;
Athletes can now share promotional social posts as part of a long-standing, generic campaign with no escalation during the Games period;
Less restrictive timeline for sponsor campaigns to be in market (90 days pre-Games period);
Streamlined notification process for personal sponsors.
But is it too little too late?
We are about to find out whether Olympic athlete partnerships have been sterilized for too long to see new growth.
"It was a big turn off for companies to sponsor us," says 2016 Olympian Charles Philibert-Thiboutot who refrained from posting photos of himself in the Asics athlete house in Rio. "Now that we have more opportunity, we have to clean up the mess that was made."
And it's a hell of a mess. Running shoe sponsorships have become so small in value that several top Canadian athletes now forego them to run in the Nike Vaporfly (Reid Coolsaet writes about his move to the Vaporfly in his blog here). Trevor Hofbauer, just weeks before recording the second fastest marathon time in Canadian history, was dropped by New Balance and was told they were looking to "globalize their brand" (a certain basketball megastar/fun guy comes to mind). Funding across the country is moving away from "career" athletes and towards ambassador groups and "influencers," who often have bigger Instagram followings than Olympians, and will do a brand's bidding for a price.
Rule 40 should have been relaxed 20 years ago, when the professional track and field athlete was less rare than Bigfoot or a legendary Pokémon. That way, we could have ogled at more publicities like this one. Though, granted, Canada has yet to produce another media marvel quite like Ben Johnson.
Instead, it's relaxed now, after most of the money has evaporated from athletics. Rule 40 has maimed athlete marketability for so long that many of the athletes I contacted weren't even aware of the recent changes around the rule. Not surprising since they've spent most of their careers chasing an unprofitable venture with little reason to grow their personal brand.
That isn't to say there is no money in the Olympics.
Broadcast and sponsorship deals for the Summer and Winter Games deliver billions to the IOC and its partners every year. A 2016 Washington Post article dives into the financial annals of the Olympic movement, revealing the generous salaries of many IOC officials, executives, employees, and "volunteers". While athletes are kept amateur (which has become the codeword for "unpaid" in contemporary sports), the people in suits get rich off the Games' mass appeal.
Now the question is whether Rule 40 was relaxed by the IOC so that it wouldn't be backed into having to eventually pay the athletes they profit from or face mounting controversy, as an organization like the NCAA is now facing.
So, what do we do now?
Philibert-Thiboutot is one of the most supported track and field athletes in Canada. He is under contract with Asics, and is endorsed by multiple running stores, a watch company, and even an eye care clinic. He says that he learned early in his career that the modern-day Canadian Olympian exists in a financial jungle, where it's eat or be eaten.
"You can make it financially as an athlete," says Thiboutot, "but you have to hustle."
His insight is more true than ever. Companies no longer fork over money to Olympic athletes—Thiboutot being an exception—but, with time, increased opportunity for exposure might change that. Relaxing Rule 40 is good news for athletes, but now the ball is in their court.
As Thiboutot has shown, athletes must become hunters, Searching out sponsors and leveraging their newfound freedom. Athletes must understand the exposure they can now offer and, perhaps then, another Hanson Dodge Creative will take a chance on a rising star. Perhaps then, shoe deals will start routinely hitting six figures. Perhaps then, Coolsaet O's will come in Maple Walnut. Perhaps then, athletes will have won this battle.
Let's just hope Olympians haven't already lost the race to finally cash in.